March is generally not the time of year that we expect new programming due to Basketball's March Madness, but not this year! March has some of the most exciting season premieres and two new shows that look very promising. March comes in strong with the series premiere of Bates Motel and ends even stronger with part 2 of Doctor Who's season 7, the series premiere of Orphan Black and season 3 of Game of Thrones. March may be my new favorite month of the year!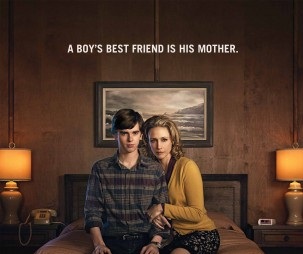 First up, the series premiere of Bates Motel. Now, A&E isn't known for it's stellar original programming, they mostly carry depressing reality shows like The First 48 or Intervention, but if History Channel can start producing Emmy Winning original series, why can't A&E? The original trailers of this show were very American Horror Story-esque, with nothing more than an ominous shot of something gory, ie a burning body as seen here:
https://www.youtube.com/watch?v=dpgdiNUttlw
. Even the music is similar to American Horror Story, so you know what I'm in. Not to mention that Psycho is one of my all time favorite movies.
Now, I am a little leery because they are putting Norman Bates in 2013, so it obviously can't be directly associated with the 1960 film, but it really doesn't matter, the psychology of a serial killer won't change whether or not he has a cell phone. After seeing the cast I really have no doubts. The incredibly talented Freddie Highmore is playing Norman Bates and I think this dark role is a great career move for him. Then we have Vera Farmiga who has given powerhouse performances for years (not to mention she is the sister of American Horror Story's Taissa Farmiga). Vera will bring to life the mother who sent a man over the edge, giving life and history to a corpse in a rocking chair. I really am looking forward to the series it has great potential.
WHO ARE YOU OSWIN OSWALD!? Finally we'll be getting some answers starting March 30th. Doctor Who will be back with his new companion Owsin Oswald... who has already died twice. But you know what, Buffy died twice and she kicks ass, so I think Oswin will too! We will also be seeing the Doctor's 50 year anniversary episode at some point during the season, so I know all you Whovians have high hopes to see some Doctors past on the show... I am praying we see David Tennant, even if he is in his human form from the other universe!
But possibly what I'm most excited about is the confirmation that Neil Gaiman has penned a Cybermen episode and it's rumored that Warwick Davis will be starring in it. Gaiman has already wrote one of the most popular Doctor Who episodes "The Doctor's Wife" where we meet the TARDIS who has been crammed into a living body. If you haven't read a Neil Gaiman book, GO DO IT! I especially recommend The Graveyard Book and American Gods (which HBO has recently bought the rights to!)
So, I'm still not totally sold on BBC's new show which premiere's the same night as Doctor Who. The more I research it, the more confusing I find it. For one, the trailer for it doesn't really explain anything and in it's attempt to be cryptic it kind of loses me. The IMDB description is a bit more interesting, A girl named Sarah steals the identity of a dead woman who looks just like her, only to find that she is one of many genetically identical individuals who are being assassinated one by one. Sarah has to discover why somebody would duplicate her genes and who is after her clones. Now that sounds a bit more interesting. Since it airs the same night as Doctor Who, why not?
No. Actually we do. But the next fucking day after Doctor Who and Orphan Black, Game of Thrones FINALLY comes back. According to the producers this is the year they have been waiting for. I heard about something they called "blood wedding" and refused to listen to any more because I won't ruin any of this for myself. I think this year might be a blood bath and nobody will be safe. I don't even want to try to speculate on anything that will happen this season but I am so so excited! I just hope none of my favorite characters kick the bucket (even though they probably will).
So, in conclusion, March 2013 is going to be epic... at least for nerds like me.