With the news that Evan Peters and Emma Roberts are now engaged (EVAN LOVE ME!) I settled down to watch tonight's episode with a heavy heart. But, after the epic mid-season finale I have high hopes. Questions you have to ask yourself, is Queenie dead? Are Laveau and Fiona really going to team up? Are the corporate witch hunters about to take revenge? Is Kyle really done drooling into a cup? Let's find out! Here are my thoughts LIVE as I watch!
Why is Fiona being so kind to Laveau? I mean, yeah, Laveau just went through a bad experience, but Fiona, you a bitch.
WHAAAAT Laveau?!?! Are you and Fiona going to have pillow fights and braid each others hair? This is a 180 that I DO NOT trust.
Ruh-oh monster shadow annnnd RED EYED VOODOO DEVIL! He looks like the Spirit of Jazz from the Mighty Boosh!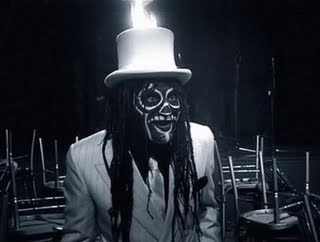 OMG THAT'S BROYLS FROM FRINGE!!!! YEY!! It's nice to see him play something other than a stuffy FBI agent!
Uhhh Is Laveau going to steal/kill a baby. DaFuq
What in God's name is going on! WHAT IS HAPPENING! WHAT THE FUCCCCCKKKKKK! Laveau just went all Linda Blaire on those cops.
Ruh-oh Cordelia FINALLY hears the truth about her psycho ex husband.
Fiona why you hitting your daughter! Shit has been bad enough for her as it is, even if you WERE right about him being a toolbox.
Oh shit, Fiona looks actually REALLY scared. That can't be good...
I am obsessed with Misty, she is PERFECTION.
Jessica Lange and Lily Rabe have fantastic chemistry.
Fiona, stop telling EVERYBODY they will be the supreme. You clearly dont know.
STEVIE NICKS! OMG IS SHE ACTUALLY A WITCH!? I LOVE THIIIIS... and there goes Misty...
Where the hell is Queenie?
OMG GOOSEBUMPS! I won't lie, I love Stevie Nicks and she sounds AMAZING! My mom raised me on this woman's voice, I am LOVING this episode.
"Marshall? You're not his type. And more importantly, you're not the next supreme." BURN.
Okay, so Madison's murmer is gone, but who cares? She died she can't be the supreme, she's only alive because of Misty.
I think Nan really had a better chance of being supreme than Madison.
I bet Madison would have stuck the cigarette in her vagina without the mind control.
Wait, how did Cordelia not figure any of this out while they were married?
Man, Fiona is really not having Cordelia. Damn.
I don't know why, but even though that mouse trap spell was cool, all I could think was "Flowers for Algernon."
AH! Fiona! Whats going on! BE OKAY!
Luke is dead! OH NO! I mean, we knew that, but I feel so bad for Nan.
Why are Fiona and Laveau actually trusting each other.
She sold her soul, boom!
Oh man, Angela Bassatt is KILLING it. I am LIVING for her performance.
The funeral procession is a BEAUTIFUL representation of New Orleans and it's culture.
"Players only love you when their playing." Dang, Madison knows her Fleetwood Mac
I LIVE for New Orleans cemeteries.
HOLY FUCK! Did Madison really bring that guy back to life!??
MADISON! NO!
Poor Misty, all she wanted was help and now she's fucked. Hopefully she is powerful enough to get herself out of this mess.
HOW MANY TIMES ARE THESE CHICKS GOING TO KILL EACH OTHER???
Wait... where is Kyle?
Peek-a-boo, we never ever see you are you even in this season?
OMG Now they want to bring LUKE back to life? JUST LET PEOPLE DIE!!
Oh Damn he was cremated!
OH FUCK! NAN IS OUT OF CONTROL!
Whatever, Luke's mom was already dead once.
OMG MYRTLE IS PLAYING THE THEREMIN!!!!! Of course she would. True story, only one person in the world is a master of that amazing little electrical instrument.
I hope to be like Myrtle Snow one day.
Yeah you know what Cordelia, just kill yourself. I am really sick of your whining.
Back on the coke then are we Fiona?
Wait, are you giving the demon coke?
Oh NO Fiona! Why would you do this? Is immortality worth it?
YOU HAVE NO SOUL! SNAP!
How the fuck did the axeman get there? Is he a ghost or a person or what I am so confused?!?!
OH GOSH! NAN FOUND THE STOLEN BABY!
Oh NAN is full of SASS
WHY THE HELL ARE THEY DROWNING NAN!!!
"She's innocent... mostly."
Oh man, I loved Nan, why do they always kill Jamie Brewer... oh well, guess she isnt supreme.
Is Stevie Nicks about to get killed?
Watching Fiona listen to Stevie was beautiful.
Ugh, if anybody who died this episode (with the exception of Misty) comes back to life, this show is useless.
Next weeks episode looks damn good though... Fiona and Marie are a serious combo!