I'm back people! I meant to blog about episode 1, but it was the day before Comic Con here in NY and I was focused on conserving energy. So, American Horror Story Freak Show. Probably the most excited I've been since finishing season one. If you've followed my blog on the previous AHS iterations, you would know I have been disappointed since Murder House. I didn't
mind
Coven, but it's ending was heart-wrenchingly disappointing. But a FREAK SHOW, oh the possibility! Anybody who knows me, knows that I am obsessed with the Freak Show culture. I have books, the movie Freaks is one of my favorites, I've gone to the Coney Island Freak Show, the musical Sideshow is top 15 on my favorite musicals list, are you getting the gist? When the announcement came out, I was going off the walls with excitement, but I had one big fear. I didn't want AHS to make the Horror come from the "freaks" because that is
not
where the fear should come from. What we should fear is how awful able bodied people could be to those who are different. But I have to stand up and applaud Ryan Murphy for casting actual disabled people in the show and not only relying on special effects and makeup.
Now we are one episode deep and it's still way to early to tell, but I'm going to give you a quick pro/con list.
Pros:
Dot and Bette. I didn't think that effect would work, but damn son.
The throw backs to the movie Freaks... just dont go too far an flat out copy it.
The overall look of the show. The colors contrasted with the darkness, perfect for the creep show vibe.
Jessica Lange playing something other than a bitchy overpowering woman.
The big reveal of Jessica Lange's missing legs.
THAT MOTHERFUCKING TERRIFYING FUCKING CLOWN. That was SCARY and AMAZING and exactly what this show should be
Cons:
How quickly it was revealed Dot and Bette actually killed their mother.
That weird fingering lady party... that was gross.
Kathy Bates accent.
The really sudden and obviously set up for the season murder of that detective.
How much time they focused on Bette and Dot even though their story didn't seem to go anywhere after an hour and a half.
The obvious problem of TOO MANY CHARACTERS again
And this last one, listen people, its very important: RYAN MURPHY YOU SON OF A BITCH. THIS IS NOT GLEE. DO NOT PUT AND ENTIRE SONG WITH A DREAM SEQUENCE IN. THIS. IS. NOT. GLEE. I actually watched the scene and said "Oh? are we going to hear the whole... yeah she is going to sing the whole song.
Over all, I wasn't bowled over by episode 1, but the clown is worth watching. And now, for my live blog of episode 2. You people ready? Here we go:
I still don't get why lobster boy killed the detective. Just because he accused the twins of a murder the did commit?
How does Elsa have such a bitchin' tent when they have no money?
God Dot and Bette really are a cool effect.
Empty creepy toy shop. Never a good sign.
Anybody remember the movie "Toys"? Bloody robot foot prints is too cheesy, even for me.
GAH THAT GOD DAMN CLOWN
I think this may be my favorite opening. I am trying to pay close attention to it, Murphy hinted there were hidden secrets in the opening, much like the Coven opening showing that Sarah Paulson's character would be supreme. I'll have to keep and eye on tumblr. Those guys and gals always have the best theories.
"Kill the copper" sounds a LOT like "Gooble Gobble." Watch out or your going to have to give the movie Freaks a lot more credit.
This whole "Woops, I killed a cop" and "its okay he said we were freaks" convo seems a little ridiculous. They really rushed this whole murder plot. Did they open the show with a shark jump?
Did Francis Conry get a new accent since the first episode?
IS RITCHIE RICH DRINKING A BOOZE FROM A NIPPLE?!?!
Uh oh is Ritchie Rich also a serial killer? Choppin' up cats doesn't look so good.
Oh great. More characters. Just what this show doesn't need. Even if one of them has got Tig-ol-Biddies.
What is in Angela Bassett's water? She is fabulous.
Oh, good. Another murder. Just what this show needs. Is this going to be a "like father like son" thing?
Three titties AND a ding-a-ling. How exciting.
I love how when Francis Conroy asks Murder Clown if he does parties he gives a look like "Is this bitch serious?"
This show jumps from plot to plot quicker that a kid with ADHD hopped up on sugar.
What the hell is this rich boy character. I don't understand why this is happening.
I get scared literally every time that clown is on screen.
WHAT IS KATHY BATES WEIRD ACCENT?!
Wow... young Kathy Bates looked nothing like Bates has ever looked in her life.
OMG That Bette is SO CUTE. Even if she did slit her Mother's throat.
I hate that Dot is falling in love with Lobster Boy because I feel like he is going to turn out to be a real ass hat.
Evan Peters, why do you have to be such a cutie patootie. I love your handsome face.
Holy fuck these play room scenes with the clown and Ritchie Rich are going to kill me. I think even the clown is freaked out
Why is Pepper on this show? Don't get me wrong, it's a great character, but the through line of the show now makes NO sense, especially since the same actors are in Asylum with her.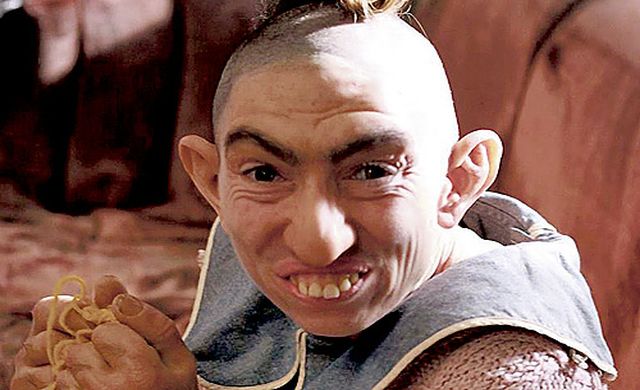 Talk about Daddy issues... wait does Lobster Boy even know Strong Man his is daddy? This seems unclear.
Something is also painfully sad about Killer Clown whose name is apparently Twisty.
HOLY FUCK THAT MOUTH! Oh that make up was fantastic, I want to see it again, rewind.
So, Ritchy Rich is some kind of psycho.
"See where he's got you billed?" "He's got to go."
Who plays the Geek? Can somebody find that out for me? He looks like the actor from Doctor Who's "Tooth and Claw."
NO. NO. THIS IS NOT GLEE. STOP. STOP THIS. THIS SONG IS NOT FROM THE TIME PERIOD AND THERE WERE NO MOSH PITS THEN. NO. NO. NO. I AM ENRAGED. RYAN MURPHY YOU ARE THE STEVEN MOFFAT OF AMERICAN TV.
ARE WE GOING TO HEAR THIS WHOLE SONG???
Is this an hour and a half again? I have to go to bed.
I smell a frame up job
Oh snap, a double betrayal.
Oh sure, blame the Geek. Just cuz he bites heads off chickens.
OMG. This is TOO awful, I feel SO BAD for this poor guy. Heart BROKEN.
Jessica Lange up to her old bitchy ways. Turning Bette against Dot.
There is no way Bette thinks killing Dot is an option.
It's after 11! We can say Shit now!
OH NO! POOR MEEP! Episode 2 and Im already heart broken. Meep is exactly the kind of horror story I am looking for with Freak Show. People who don't understand are the monsters.
This would have been a great episode, but nooooooo they had to go and put in a weird unrealistic untrue to the time musical number in. Ugh. Next week's Halloween episode has potential, but if there is another weird musical number ima be pissed.